KRAV MAGA – LIBERTYVILLE WOMEN'S SELF DEFENSE
Women's Self Defense in Libertyville Illinois
Self defense for Women is extremely important as unfortunately, statistics show that all women are good candidates for violent crime at some point in their lives. When a woman's safety is in danger, defending herself through Awareness, Preparation, De-Escalation, Avoidance and Fighting Back is the most ethical decision she can make for herself and her family.
But there is much more to it than just physical self-defense.
According to the National Institute of Justice, roughly 20 percent of female assault victims are assaulted by a domestic partner. More than 80 percent of rapes are perpetrated by a person that the victim knows. At The Northshore Academy of Martial Arts, Our Women's self-defense classes are about much more than learning to beat up a stranger in a dark alley.
We Take Women's Self Defense Seriously!
Our Women's Self Defense Course was developed to provide woman with the necessary skills to defend themselves and their families… physically and mentally. We focus on extreme education, promoting awareness, building self-esteem while giving women both the physical and mental tools they need to detect, avoid and escape potentially violent situations.
Our Women's Self Defense Class is an ongoing program with no athletic or fitness experience required. Classes are taught by Guro Marc Halleck and U.S. Navy Veteran Sensei Jeff Morris.
What You Will Learn in our Libertyville Women's Self Defense Program
We focus on hardcore physical self-defense techniques… but we also work with you on many other common criminal predatory scenarios including:
Protecting your Child
Public Event and Transportation
Awareness
When Going on Vacation
ATM and Banking Security
Vehicle and Parking security
Avoiding Crimes when Parking
Safety while your Child's Alone
Home Security Tips
Rape and Sexual Assault Prevention
Hotel and Traveling Awareness
Identity Theft and Personal Information
Safety
Party Safety & Date Rape Precautions
Violent Crime Scenarios – Rape, Assault, Robbery
Common Sense Street Safety
Bogus Phone Calls and Harrasment
Burglary Prevention – Residential & Commercial
Staying Safe During the Holidays
Carjacking Tips
Charity Fraud Techniques
Con Artists
Holdup Prevention
Jogging and Playground Awareness
Personal Protection Items
Confronting Danger
Tips for Avoiding Crime
Property Marking
Facebook and Internet Security
WOMEN'S SELF DEFENSE WORK SHOPS AVAILABLE
The Best in Libertyville Women's Self Defense… Since 1997.
Real estate agents often are alone. The potential buyer is quite often unknown and a complete stranger. Real estate agents show empty houses with no one else around except for the potential buyer.  Thinking about your own safety and how you would get out of a bad situation should be part of your everyday checklist. You need to think about Real Estate Self Defense so you can stay safe with Preparation, Awareness and Self-Defense and Self Protection.
The foundation for all techniques lies in lower-body mechanics.  We will work with to refine your "ready" or "fight" stance while your hips work as the primary movers for generating force. Hips and Shoulders move in one coordinated movement, maximizing force generation.
We'll work with you to develop your Body Mechanics, Stance and Footwork that is suited to your style, your skills, and your abilities
While Sparring is limited to those who wish to spar, but is relative to good, practical self-defense experience… Striking is of the utmost importance.  
Boxing, Kickboxing and Muay Thai strikes are a focus in most of our Martial Arts Programs. We will help you establish good techniques while utilizing hands, elbows, knees and legs to throw strikes.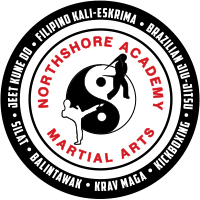 Enjoy a Free Week of Classes!
Thank you for visiting Northshore Academy of Martial Arts in Libertyville, IL.Sign up below and Take advantage of our Free 1 Week Trial Promotion.  We look forward to hearing from you!
THE BENEFITS OF OUR KRAV MAGA WOMEN'S SELF DEFENSE PROGRAM
Get Started In Our Libertyville Women's Self Defense Program Today!
We encourage you to take advantage of our family discounts and free trial period…Try us out while meeting friendly staff, parents and students. Click here to get started with your free week trial period. If you have any questions about our programs, Please feel free to contact us at 847.573.1672. Thank you for your interest in The Northshore Academy of Martial Arts… We look forward to hearing from you!.
ACADEMY
YOUTH PROGRAMS
STUDENT LOGIN
PARENTS
ADULT PROGRAMS
EVENTS
LOCATION
Northshore Academy of Martial Arts
281 Peterson Road
Libertyville, Illinois 60048
DIRECTIONS

We are Located in the
Peterson Commons
Center next to Lino's
and Catered Productions
Directions: Click Here
CONTACT
Phone:  847-573-1672
Email: Click Here
Facebook: Click Here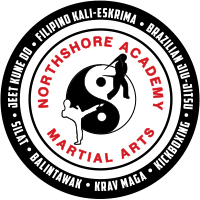 Thank you for visiting Northshore Academy of Martial Arts.  Take a moment to browse our website and feel free to contact us with any questions you may have... We are here to help.