JEET KUNE DO / KALI – WEAPONS: STICK AND KNIFE – ADULT (AGES 15+)
Lake County's Premiere Martial Arts Academy since 1997
The Northshore Academy of Martial Arts in Libertyville has been the Martial Arts Leader in Jeet Kune Do and Kali since it's inception.  Under the Training of Guro Dan Inosanto, Guro Ron Balicki, Grandmaster Atillo and Guro Rick Faye, we bring you the best of what Jeet Kune Do (JKD) and Kali have to offer.
What is Jeet Kune Do?
Jeet Kune Do (截拳道; also "Jeet Kun Do", "JKD," or "Jeet Kuen Do") is a hybrid martial arts system and life philosophy founded in 1967 by martial artist Bruce Lee with direct, non classical and straightforward movements. The style emphasizes minimal movement with maximum effect and extreme speed. The system works on the use of different 'tools' for different situations. These situations are broken down into ranges (kicking, punching, trapping and grappling) with techniques flowing smoothly between ranges. It is referred to as a "style without style" or "the art of fighting without fighting" as said by Bruce Lee himself. Unlike more traditional martial arts, Jeet Kune Do is not fixed or patterned and is a philosophy with guiding thoughts. It was named for the concept of interception, or attacking your opponent while he is about to attack. However, the name Jeet Kune Do was often said by Bruce Lee to be just a name. He himself often referred to it as "the art of expressing the human body" in his writings and in interviews. Through his studies Bruce came to believe that styles had become too rigid and unrealistic. He called martial art competitions of the day "dry land swimming". He believed that combat was spontaneous and that a martial artist cannot predict it, only react to it, and that a good martial artist should "be like water," moving fluidly without hesitation.
In 2004, the Bruce Lee Foundation decided to use the name Jun Fan Jeet Kune Do (振藩截拳道) to refer to the martial arts system that Lee founded. "Jun Fan" was Lee's Chinese given name.
What is Filipino Kali?
Kali (In the West), Eskrima, and Arnis are umbrella terms for the traditional martial arts of the Philippines that emphasize weapon based fighting with sticks, knives and other bladed weapons, firearms, and various improvised weapons. It also includes hand-to-hand combat and weapon disarming techniques.
Kali students start their instruction by learning to fight with weapons and only advance to empty-hand training once the stick and knife techniques have been sufficiently mastered. This is in contrast to most other well-known Asian martial arts but it is justified by the principle that bare-handed moves are acquired naturally through the same exercises as the weapon techniques, making muscle memory an important aspect of the teaching. It is also based on the obvious fact that an armed person who is trained has the advantage over a trained unarmed person and serves to condition students to fight against armed assailants. Most systems of Kali apply a single set of techniques for the stick, knife, and empty hands, a concept sometimes referred to as motion grouping. Since the weapon is seen as simply an extension of the body, the same angles and footwork are used either with or without a weapon. The reason for this is probably historical, because tribal warriors went into battle armed and only resorted to bare-handed fighting after losing their weapons.
Many systems begin training with two weapons, either a pair of sticks or a stick and a wooden knife. These styles emphasize keeping both hands full and never moving them in the same direction, which trains practitioners to become ambidextrous. For example, one stick may strike the head while the other hits the arm. Such training develops the ability to use both limbs independently, a skill which is valuable even when working with one weapon.
WHAT WILL YOU LEARN IN OUR ADULT JEET KUNE DO AND KALI PROGRAM 
The Best in Libertyville Martial Arts… Since 1997.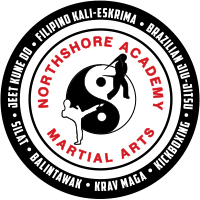 Enjoy a Free Week of Classes!
Thank you for visiting Northshore Academy of Martial Arts in Libertyville, IL.Sign up below and Take advantage of our Free 1 Week Trial Promotion.  We look forward to hearing from you!
THE BENEFITS OF OUR ADULT JEET KUNE DO AND KALI PROGRAM
Get Started In Our Jeet Kune Do & Kali Program Today!
We encourage you to take advantage of our family discounts and free trial period…Try us out while meeting friendly staff, parents and students. Click here to get started with your free week trial period. If you have any questions about our programs, Please feel free to contact us at 847.573.1672. Thank you for your interest in The Northshore Academy of Martial Arts… We look forward to hearing from you!.
ACADEMY
YOUTH PROGRAMS
STUDENT LOGIN
PARENTS
ADULT PROGRAMS
EVENTS
LOCATION
Northshore Academy of Martial Arts
281 Peterson Road
Libertyville, Illinois 60048
DIRECTIONS

We are Located in the
Peterson Commons
Center next to Lino's
and Catered Productions
Directions: Click Here
CONTACT
Phone:  847-573-1672
Email: Click Here
Facebook: Click Here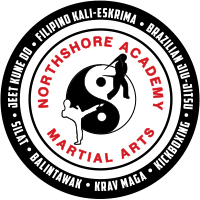 Thank you for visiting Northshore Academy of Martial Arts.  Take a moment to browse our website and feel free to contact us with any questions you may have... We are here to help.