OUR FACILITY AND AMENITIES
Lake County's Premiere Martial Arts Academy since 1997
The Northshore Academy of Martial Arts Located in the Peterson Commons Center next to Lino's and Catered Productions on Peterson Rd just west of Milwaukee Ave in Libertyville, Illinois .  An easy drive from anywhere in or near Lake County, Illinois.
At The Northshore Academy of Martial Arts, our focus has… and will always be… Premium Martial Arts Instruction coupled with the best in Character Development. We are proud to say that our school is one of the finest and best-equipped martial arts dojos in the Chicagoland area.  Here are just a few highlights of our Martial Arts Facility and Amenities:
5000 Square foot facility – has 30 foot High Ceilings, commercial air conditioning and heating with convenient and ample private parking with comfortable wheelchair accessibility
Enjoy our Free Wi-Fi, Coffee and Tea – High Speed Wireless Internet Access is available at all times. Free Gourmet Coffee and Tea is also available to Students, Family and Guests while a variety of snacks, juice and other refreshments are available for purchase
Reality Based Self Defense Equipment – Our Libertyville martial arts facility provides students with a professional training surface for safe, reality-based training while our students utilize the same types of tools and equipment that were used by the founder of Jeet Kune Do (JKD), the legendary Bruce Lee
Wall to Wall Premium Zebra Pro Grade Mats – with no obstruction or poles in the way – Our Mats are double padded and nearly 2 inches thick – dense enough for standing and kicking, yet soft enough for practicing take downs, grappling and ground related self-defense techniques
We have over 30 feet of wall mirror – Great for promoting proper body mechanics while mastering form and technique
Spacious waiting area – is clean, comfortable and allows you to watch as students train or socialize with others. A closed circuit television is also conveniently located away from the main training area for your viewing
Spectator / Family Viewing Area – Almost 30 feet of Stadium Seating viewing space with high ceilings – Comfortable for parents, siblings, family and friends. Perfect for viewing & taking photos of your child's Martial Arts Classes, Testing & Watching Northshore Academy of Martial Arts Events and Seminars
Pro Grade Equipment – Our Martial Arts Training area is outfitted with the best Martial Arts equipment and loaner gear for every level of student ( Kids, Youth, Teen and Adults ) – Heavy bags for strength training, small target bags for focus and speed training, head and body gear for safe and effective sparring, handheld focusing pads for kicking and punching, large size strength & speed-training shields, mini accuracy-training shields, free weights, kettlebells, strength training equipment and more
Comfortable Office – for you to meet with Instructors to discuss your child's development and progress
NSA Merchandise – section and showcases stocked with many training related items including gear, uniforms, weapons, dvds, books and more
Impeccably Clean – We take pride in our school being clean, well-organized, safe and professionally staffed at all times. In addition to our daily cleaning routine for mats, equipment and bathrooms, we utilize advanced-technology virus and bacteria-killing systems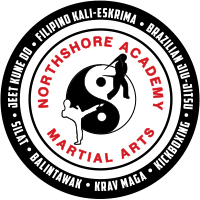 Enjoy a Free Week of Classes!
Thank you for visiting Northshore Academy of Martial Arts in Libertyville, IL.Sign up below and Take advantage of our Free 1 Week Trial Promotion.  We look forward to hearing from you!
ACADEMY
YOUTH PROGRAMS
STUDENT LOGIN
PARENTS
ADULT PROGRAMS
EVENTS
LOCATION
Northshore Academy of Martial Arts
281 Peterson Road
Libertyville, Illinois 60048
DIRECTIONS

We are Located in the
Peterson Commons
Center next to Lino's
and Catered Productions
Directions: Click Here
CONTACT
Phone:  847-573-1672
Email: Click Here
Facebook: Click Here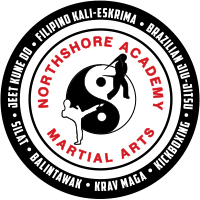 Thank you for visiting Northshore Academy of Martial Arts.  Take a moment to browse our website and feel free to contact us with any questions you may have... We are here to help.