LIBERTYVILLE YOUTH BRAZILIAN JIU-JITSU (AGES 5-14)
Lake County's Premiere Martial Arts Academy since 1997
There are many different Martial Arts out there, and it can be hard to really understand the differences between styles when you are trying to choose what would be best for your child. Here are several reasons why Brazilian Jiu-Jitsu (BJJ) is one of the safest forms for children to begin their journey into the world of Martial Arts:
It is a non-violent yet effective and complete self-defense system. Many parents want their child to learn a martial art in order to defend herself/himself against bullies or unwanted strangers. Having a safe and foundational system of self-defense is key to children feeling confident about defending themselves if needed. Because it is completely based in leverage and submission, BJJ technique actually gives the smaller opponent an advantage. There is no kicking or punching involved, unlike many other martial arts.
It is a natural martial art, based in leverage and balance. Brazilian Jiu Jitsu uses the principles of action – reaction, leverage, and base. Children learn to use an opponent's power as an advantage, rather than fighting against the force. We practice many different games that help children experience these principles and learn to understand how to use them as techniques. Children develop a heightened sense of body awareness and coordination, which leads to self-confidence and inner discipline. Not only do children learn how to effectively defend themselves, but also strengthen their kinesthetic abilities to excel in any other sport of which they participate. It doesn't have to be a choice of one sport or the other
The Origins of Brazilian Jiu Jitsu
Brazilian jiu-jitsu is considered to be "the gentle art". Jiu-Jitsu emerged over 4,000 years ago and can be traced back to India and the Buddhist Monks. It was a martial art that did not involve violence or weapons. It spread and evolved over the years through Japan (officially now called Judo in Japan) and then to Brazil in 1925, when Helio Gracie opened the first Brazilian Jiu-Jitsu school there. Helio improved on traditional jiu-jitsu to accommodate practitioners of smaller, weaker size. Focusing on technique, he was able to reduce the reliance on strength.
Brazilian Jiu-Jitsu was first widely introduced to the United States in the 1990′s and has continued to grow and gain popularity. Brazilian Jiu-Jitsu is one of the most effective martial arts today, and is well-known across the globe.
Our Youth Brazilian Jiu Jitsu Program in Lake County, Illinois
The Northshore Academy of Martial Arts and Gracie Veneration offer a unique program for kids that will not only provide your child with the necessary skills to defend themselves, character development and a sense of community, they will also gain the necessary benefits that will help them in all areas of their everyday life.
Gracie Veneration Brazilian Jiu jitsu is not only a lifestyle and proven method of self-defense, but it is also a competitive sport. We offer your child the opportunity to be a part of the Gracie Veneration Brazilian Jiu-Jitsu competitive team and compete across the country.
Gracie Veneration continues to develop the Midwest's largest and most successful kid's Brazilian Jiu Jitsu program which has captured numerous team titles and continues to equip young people for success!
THE BENEFITS OF OUR YOUTH BRAZILIAN JIU JITSU PROGRAM – AGES 5-14 YEAR OLDS
The Best in Libertyville Youth Brazilian Jiu Jitsu… Since 1997.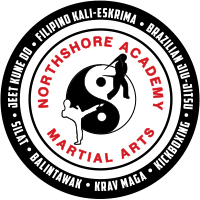 Enjoy a Free Week of Classes!
Thank you for visiting Northshore Academy of Martial Arts in Libertyville, IL.Sign up below and Take advantage of our Free 1 Week Trial Promotion.  We look forward to hearing from you!
Parents of our Youth Jiu Jitsu Program: Ages 5-14 years old
Libertyville Brazilian Jiu Jitsu for Youth
Parental Concerns
A common parental concern is that martial arts will encourage violence and aggression. The opposite is actually true. Through consistent, fun and focused training, children will quickly discover an inner confidence and strength which enables them to move beyond the need to prove themselves physically. As your child gets older, patience and tolerance replace anger and frustration, giving your child the ability to make good decisions.
At The Northshore Academy of Martial arts, our Early Ninja Program training program takes your child's energy and directs it in a positive and constructive manner tempered with fun, discipline and control. Parents are excited to see the self-discipline, focus control and increased concentration carry over into everyday life.
The physical, mental, emotional and developmental benefits provided by The Northshore Academy of Martial arts is unparalleled. No other single activity will provide your child with all the benefits that our Early Ninja Program has to offer. It's no wonder that so many doctors and educators recommend Martial Arts training for children of all ages.
Your Role as a Parent
As you can see, the Early Ninja Program curriculum is educational and also fun! Your child will learn the family values and life skills needed to live a life of focus and discipline – always striving to be the best. Although The Northshore Academy of Martial Arts creates an atmosphere of Leadership and Success… We can't do it without our parents help. Here are some important tips that will help you and your child get the most out of our Early Ninja program:
Make sure your child attends class regularly – Children adjust to consistency. If attending class becomes an option and not a priority, they will not adjust well. If your child is going to miss a class for any reason, please contact us and we can make further arrangements. Your child's progress is of utmost importance.
Watch your child participate often – Your child wants to make you proud. The best way they can show you how well they are doing…is for you to see it for yourself.
Monitor your child's progress – Your Child should earn a skill stripe every week. If your child does not receive a stripe, your child may have a challenge with that particular skill and will need just a little extra practice at home.
Keep an updated calendar on the skills covered in each class – If your child misses a class or falls behind, they will need to make up the skills they missed.
Keep track of when your child's next belt promotion is scheduled to take place – This way you can help prepare your child for their next performance. You should expect your child to belt test approximately every eight weeks.
Invite family, friends, and teachers to your child's belt promotion – This is a big event for your child and it only comes around every eight weeks! This might not seem like a very long time… But for your child.. eight weeks is a lifetime. Make it an event they'll never forget and your child's confidence will grow!
Our Martial Arts Classes are Different from the Rest
We are not in the business of "Tooting our own horn" …but we think it is very important that you make the most informed decision when making any commitment for yourself… or your children. With that said… No other Martial Arts School in the Lake County area offers our Character Development Program …or… the rank certified, realistic and credible self-defense techniques that we have to offer.
We are not a "McDojo"… We are not a Franchise – We are not a school that teaches a watered-down and impractical form of martial arts in the name of making money. We are not a school that places the importance of profit ahead of teaching realistic, rank certified and credible self-defense. At The Northshore Academy of Martial Arts, Belt Advancement is earned and not purchased. Nothing promotes excellence, and builds more character, than earning something that you know you truly worked for. Ask any of our students.
We also believe it is essential that you understand the background of any Martial Arts school you are considering. Here are just a few of Our Martial Arts Accreditations and Affiliations:
Authentic Martial Arts… Our Roots Run Deep
We also believe it is essential that you understand the background of any Martial Arts school you are considering. Here are just a few of Our Martial Arts Accreditations and Affiliations:
The only Lake County, Illinois school certified by the Legendary Dan Inosanto in Bruce Lee's Jeet Kune Do and Filipino Martial Arts
Member of The International Law Enforcement Educator & Trainers Association
A Member of the Veneration Brazilian Jiu Jitsu Affiliation

The Midwest Representative for Atillo Balintawak
The Midwest Representative for Ron Balicki's Martial Arts Research Systems – Jeet Kune Do / Kickboxing / Kali Escrima
Certified by Rick Faye of the Minnesota Kali Group
A Member of the National Association for Professional Martial Artists
A Member of the Martial Arts Industry Association
A Member of the Libertyville Chamber of Commerce
ACADEMY
YOUTH PROGRAMS
STUDENT LOGIN
PARENTS
ADULT PROGRAMS
EVENTS
LOCATION
Northshore Academy of Martial Arts
281 Peterson Road
Libertyville, Illinois 60048
DIRECTIONS

We are Located in the
Peterson Commons
Center next to Lino's
and Catered Productions
Directions: Click Here
CONTACT
Phone:  847-573-1672
Email: Click Here
Facebook: Click Here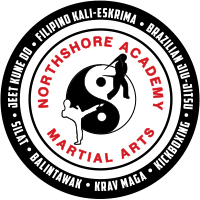 Thank you for visiting Northshore Academy of Martial Arts.  Take a moment to browse our website and feel free to contact us with any questions you may have... We are here to help.